If you want to just want to see the list of top YouTube Vlogging cameras 2021, you can scroll down to the bottom of the page. However, if you want to know what to look for in your purchase of a Digital Video Camera, please read the rest of the article and you will see our list.
If you are a Video Blogger, the first product you will want to buy is a Digital Camcorder while will allow you to post your videos directly to YouTube, Vimeo, and TikTok.  When you look at all of the options out there, it can be a challenge to find the right camera; especially if you are on a budget.  The good news is that you do not have to spend a lot of money today to find a good quality video camera.  Before we list the best YouTube Vlogging Cameras for 2021 (And Cheap Too!), here are some hints and tips on what to look for:
1. Video Resolution
Some people make the mistake of buying the highest video resolution camera but that can be an expensive mistake as you do not need 8k or even 4k resolution. When you start out, all you need is a 1080p resolution camera. Although you can find inexpensive 720p cameras, it is not recommended as the quality will be less than ideal.
2. Low Light Sensitivity
It is critical that your camera is sensitive to low light.  The way to know for sure if a camera does well in those situations is to look at the ISO.  The higher the ISO, the more sensitive the camera is to low-light. A higher ISO camera will do a better job of capturing more light.  While looking at the ISO, you need to take into consideration the effect it has on noise and gain which can reduce the quality of the video.  Understand that the higher the ISO, the more expensive the camera typically.  A way that professional Vloggers resolve this is to have their own lighting in the studio.  Also, if you are outside, you can take advantage of natural lighting which always produces the best quality images and videos.
3. Type of Lens
When looking at lens selection, the camera you buy will have a standard lens built-in.  It will depend on the camera and brand itself.  If you choose a compact camera, you might be limited to the camera that came with the video camera.  For more flexibility, you will want a mirrorless or DSLR camera where you can have your choice of more lens.  Again,  It all depends on the camera and brand what accessories you can attach to your particular camera.  An interchangeable lens gives you much more control of your video.  Some of the cameras will have a lens kit included but you will want to make sure and read the product packaging specs.
4. Autofocus Capabilities
Autofocus is vital for good vlogging and any camera you use must have it.  Many professionals prefer doing manual focus but it is going to be a frustrating endeavor if you are just starting out.  You don't need to spend time trying to manually focus your picture and most of the digital video cameras do a good today of autofocus.
5. Microphone Sound Quality 
Interestingly, sound quality can be more important than video quality when filming.  Your viewer might watch your video in 720p, 1080p, or 4k but if the sound quality is poor, then the viewer might not watch your great video.  Many of the cameras today have decent sound quality but many professionals use an external microphone.  If you are behind a desk, it is much easier to use a fixed microphone but if you are moving around or outside, most likely you will have to depend on either a wireless mic or the built in microphone.  In addition, if you can find a microphone with noise-cancelling capabilities, that can be useful.  Remember the sounds and noise around you, especially if you are filming outside.  The noise from just a slight breeze can make the sound quality of your film less than ideal.
6. Flip-Screen
Flip-screens are recommended because you will want to view the camera screen while recording.  Many of the flip-screens also show the audio levels which comes in handy.
A vlogging camera needs a flip-screen otherwise it will be near impossible to vlog. Flip out screens will help you view the camera screen while you are recording your vlog. This allows you to get your focussing and exposure correct. It will also allow you to monitor your audio levels if the camera has that ability. Take a look at our guide to the best vlogging cameras with flip screens.
7. Size of YouTube Camera
If you are filming inside your office, then the compactness of a camera is less important.  However, if you are going to be walking around or outside, you need to consider the weight of your camera and the accessories that you will need to have with you.  Some of the higher-end DSLR cameras can weigh up to two pounds.   Having to hold or carry around a heavy camera is not an enjoyable experience.
8. Tripod/Handle
Again, if you are behind a desk doing your video blog, you do not need to worry about a tripod.  However, if you are outside or walking around, you need to either get a handle or a tripod.  It all depends on your particular film, whether you should use a handle or a tripod.   A handle is best for walking around or outside. When you are filming outdoors, for example, you might want to use a wide-angle lens which will help show a larger amount of the natural background around you.  This helps you to have a longer focal length that has less distortion.  A tripod is best if you are inside or if you are somewhere that you are sitting down.  Tripods are typically flexible in height so you can use a tripod both for standing up or sitting down.   Another inexpensive option is to use a "Gorilla" tripod like what is shown below: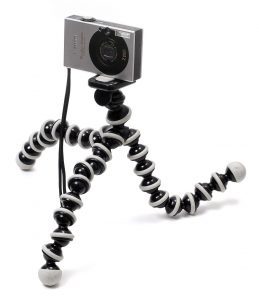 9. Budget
The good news is that you can find some good quality YouTube Video Blogging cameras for less than $100.  If you want to spend more money you can, but even a high-quality digital camcorder can be bought for $250.
Top Desired Vlogging Camera Specs:
Lightweight
Autofocus
ISO for Low-Light Situations
Flip out screen
Below are our picks for the best YouTube Vlogging Cameras that are also inexpensive:
1. Kicteck 604S Camcorder
Video Camera Camcorder Digital Camera Recorder kicteck Full HD 1080P 15FPS 24MP 3.0 Inch 270 Degree Rotation LCD 16X Zoom Camcorder with 2 Batteries(604s)
We pick the Kickteck 604S as our top pick because it is great for beginners and has a great price of around $65.  It does not have all the bells and whistles of more expensive brands but if your goal is to produce good quality YouTube or TikTok videos, you can not go wrong.  This entry-level video camera has impressive functionality for the price and is also welcomed by more experienced filmmakers.
Pros:
Good for Video, Still Photos, and recording voice memos
Great Entry Level Camera that is easy to use
Great value for the price
Cons:
Less than ideal Sound Quality
2. Linnse Camcorder
Video Camera Camcorder Full HD 1080P 30FPS 24.0 MP IR Night Vision Vlogging Camera Recorder 3.0 Inch IPS Screen 16X Zoom Camcorders YouTube Camera Remote Control with 2 Batteries
If you want to do video blogging with extra features such as slow-motion video, motion detection, self-shooting, and time-lapse, you can't go wrong with the Linnse Camcorder.  You get a lot of features for the price including two batteries which makes it ideal for filming when you are not attached to a power source.  Another feature is that it works well in low light conditions and you get high-quality images regardless of the lighting.
Pros:
Full 1080p resolution plus 30 FPS speed
Great Features for the Price
Ability to pause filming and continue without creating a new file
Cons:
The Internal Mic could be better
3. Lecran 4K Video Camera Camcorder
4K Video Camera Camcorder, Vlogging Camera 48MP 60FPS YouTube Camera WiFi Night Vision IPS Touch Screen Video Camera Digital Camera with External Microphone, Stabilizer, 2.4G Remote Control, Hood
The Lecran is our pick for the best quality Vlogging Camera.  It is around $150 but is packed with an impressive amount of features that you would typically find in much more expensive models.  This camera actually has advanced features such as Ultra High Definition (UHD) 4K resolution, Infrared night-vision mode, and an X-Y Stereo Microphone.  This camera is great for creating professional-grade videos but is easy enough for the newbie.  Another cool feature is the built-in WiFi connection so you can film remotely and then instantly share your video to YouTube and TikTok without having to sync up with your PC or Mac.
Pros:
Time-Lapse, Slo-Mo, InfraRed Low Light Modes
HDMI-Compatible and Built-in WiFi
16x digital zoom
The accessories in the box are of great quality
Cons:
You might need to buy longer HDMI cables
4. Canon HF R800 Camcorder
Canon VIXIA HF R800 Portable Video Camera Camcorder with Audio Input(Microphone), 3.0-Inch Touch Panel LCD, Digic DV 4 Image Processor, 57x Advanced Zoom, and Full HD CMOS Sensor, Black
The Canon VIXIA HF R800 is our most expensive camera on the list of best YouTube Cameras.  The Canon brand is one that is recognized throughout the world and is known for its great quality.  The best part about this camera is the sleek and compact size. Usually, when you see a small camera, you think the features will be limited but with the Canon Video Camera, you get some very powerful features.  In particular, the LCD screen is top-quality with great natural colors.  In addition, you have features such as 57x advanced zoom and you can also use the VIXIA HF R800 as a standalone webcam.  The image stabilization is really good and with the lightweight, it is easy to handle for long periods of time.  Finally, you get great HD quality video even in low light situations.   If you are looking for a great Vlogging camera that you can fit in your hand, this would be our top recommendation.
Pros:
Lightweight and small size
Image Stabilizer is high quality
Optical Zoom in addition to Digital Zoom
Excellent LCD Color Screen
Cons:
The internal mic is just okay and might require an external microphone if filming in a noisy area
5. Lincom Tech V4G 4K UHD Camcorder
4K Video Camera Ultra HD Camcorder 48.0MP IR Night Vision Digital Camera WiFi Vlogging Camera with External Microphone and Lens Hood, 3 in Touch Screen (V4G)
The Lincom Tech V4G is a good general-purpose Digital Video Camera that will work well for Vloggers.  What is different about this model is that it has a lot of features so you can use it in many different settings.  You can use the Lincom Tech V4G  for time-lapse recording, still photography, field and trail photography and even use it as a standalone webcam.  Also impressive is the Ultra-HD resolution which allows for great images and video.  One of the other good things about this digital video camera is the audio quality of the microphone.  Unlike many of the Digital camcorders out there, you do not need to purchase an external microphone.
Pros:
Good all-around camera for beginners
Lightweight design
Easy to Learn and Use
Cons:
The battery does not last as long as other picks on the list
Hopefully, this article will give you the information you need for choosing a good quality but economically priced YouTube video blogging camera.  There are many good choices available and you can spend as much as you want on a camera but it is not necessary.  Many of the social media influencers out there use these same cameras and are very happy with the quality.  If you want to go beyond just filming on your iPhone or Android device, you will be pleasantly surprised at the features, quality, and low prices.  In the mode of full disclosure, we do receive affiliate commissions from the sale of these products.  Good luck as you begin your adventure into the world of Video Blogging on YouTube, TikTok, and other social media platforms.  Feel free to leave comments if you have any questions or feedback and thanks for reading our article.